Woo Hoo!! Happy Aloha Friday!
Today starts a brand new
Aloha Friday challenge
at Kitty Bee Designs. This one should be good fun!
PLAY PRETEND
(Show image in costume or doing something job/hobby related)
Our awesome sponsor this week is:
Some of the cutest stamps out there. Thank you Heidi for sponsoring our challenge! Make sure to stop by the
challenge blog
to read the prize info and details of the challenge. You'll also get to see how the rest of the Bees are
playing pretend.
Today I've got two projects to share using the same digital image,
Lucky Unicorn
.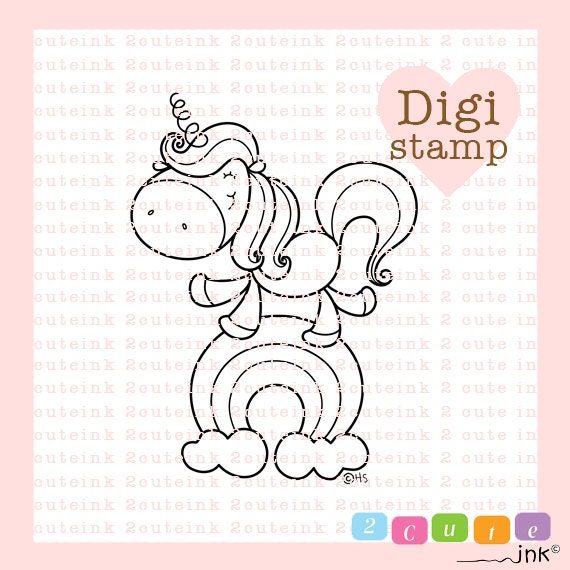 Kawaii, right?!! Makes me smile. First up is the challenge inspiration card. Now mind you I was going for playing pretend, k? >.< Meet Zebra-corn...
Get it? Unicorn incognito as a zebra? hahaha... I know I tried my best. I actually like how it turned out, something different from me that's for sure. How about a different angle?
When I finished coloring I was pleasantly surprised on how cute the black and white stripes turned out. It really seemed to work.
:)
The clouds were created with a stencil and Distress Ink Tumbled Glass. The green tree with the yellow flowers is a Kodomo rubber stamp. I used DI Peeled Paint for the green part and Copics to color in the flowers. The grass was cut with a Fiskars grass border punch and the paper is scrap from a recent project. Once I popped on the butterflies and the sentiment I said to myself,
Stop!
The scene is pretty complete if you ask me. Zebra-corn agrees... hahaha! BTW, I kept the rainbow to use for later...
Now here's the other just for fun project, a tag, using the image as it was meant to be...
Aww there's the cute lucky unicorn and remember I mentioned using the other rainbow later? Well here it is. It was fussy cut and then popped up on to the other rainbow with pop dots to give it a little bit of a 3-D effect. The tag is MFT, and the scene is pretty self explanatory. The sentiment is computer generated and I colored in the RAINBOW and RAINBOW word with you guessed it rainbow colors. The clouds were created the same as above. I used the same rainbow Copic colors on the button to sort of mimic the rainbow below; added black white white twine and a black sheer ribbon from my stash. Here's a close-up of the rainbow...
I used a white gelly roll pen (by Sakura) and added whimsical dots to the rainbow.
Well that's a wrap for me, don't forget to read the rules before linking up to
our challenge
and have fun! Looking forward to seeing what you create! Mucho Mahalos for stopping by today, have a fabulous Aloha Friday and a great weekend!!
Hugs,
Leanne
Team Bees for Kitty Bee Designd DT